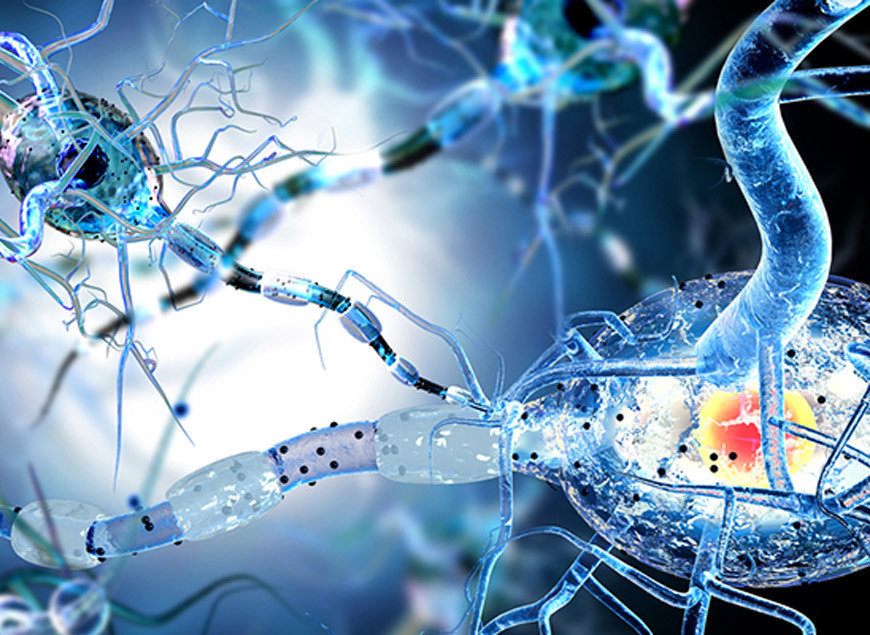 Unique Access provides access to an extensive treatment protocol for Multiple Sclerosis (MS) which utilises higher quantities of stem cells, extensive rehabilitation, and many supportive therapies and supplements. This effective combination of the most advanced medical technologies with functional medicine has helped patients achieve significant improvements.
Why Stem Cells Work For Multiple Sclerosis
Extensive research from multiple research organizations over the last decade has led to the conclusion that stem cell transplantation is the most promising treatment modality not only to improve the condition and prevent secondary complications but also to reverse the neurological damage.
Moreover, stem cells regulate the immune system's response against the nerve cells and release growth factors which promote cell growth, differentiation, and stimulate the brain's own stem cells to speed up the recovery process.
Mechanisms
Recent published research showed that Mesenchymal Stem Cell (MSC) treatment is a potential treatment remedy for Multiple Sclerosis patients.
The mechanisms of Mesenchymal Stem Cell (MSC) for Multiple Sclerosis are based on the following aspects:
(1) Mesenchymal Stem Cells (MSCs) exert their immunomodulatory functions on numerous immune cells including T cells, B cells, NK cells and dendritic cells (DCs). Mesenchymal Stem Cell (MSC) on one side induced peripheral T cell tolerance to myelin proteins, thus reducing migration of pathogenic T cells to the CNS and, on the other side, homed themselves to the CNS where they preserved axons and reduced demyelination.
(2) Mesenchymal Stem Cells can protect axons and improve neuronal survival, possibly via anti-apoptotic effects, anti-oxidant effects, or the release of trophic factors.
(3) Mesenchymal Stem Cells can induce endogenous neurogenesis and oligodendrogenesis.
(4) Mesenchymal Stem Cells can decrease production of proinflammatory cytokines and chemokines.
(5) Mesenchymal Stem Cells also appear to reduce gliotic scar formation – gliosis representing a major barrier to spontaneous repair.
Possible Improvements
Most of the Multiple Sclerosis patients Global Stem Cells has helped to receive innovative treatments, with the combination of Mesenchymal Stem Cells (MSC), supportive therapies and rehabilitation, showed visible improvements in motor function, sensation, bowel and bladder control, muscle tone and strength, balance and coordination, vision, memory and cognition.
Moreover, the disease progression has been observed to be significantly slower after the treatment.
Multiple Sclerosis patients treated with stem cells usually observe improvements in the following areas:

Bladder & Bowel Control and more
Our Promise
We believe that there is always hope and that patients deserve access to effective and safe treatments.
We are independent with an in-house medical department.
We combine internationally accredited hospitals, next generation treatments, unique products and services that are integrative and effective to ensure best possible treatment results.
Multiple Sclerosis Testimonial
Testimonial Disclaimer: All examples of what has been achieved by others should not be taken as typical or in any way a guarantee or projection of what any individual can expect from treatment.
Chris Negus was diagnosed with Multiple Sclerosis (MS) in New Zealand and had difficulty walking due to his condition. He sought Stem Cell Treatment with Unique Access Medical in Bangkok and is very happy with the results of the treatment he received. In this video, Chris and his wife describe his improvements and also share a special message of hope to all others living with Multiple Sclerosis.
Stem cells
In terms of stem cells we will make sure that the patient will receive the correct and necessary stem cell type, quality, quantity and viability. Our exclusive research partner guarantee a stem cell viability of 95%, many injections have a staggering viability of 98-99%.
Supportive Therapies & Remedies
We make sure the patient gets the supportive remedies, therapies, rehabilitation, detox & immune-boost programmes needed to get the most out of the stem cells. These programmes include:
Hemo Oxygen Therapy (HOT)
Immune-Boosting Supplements (e.g. GcMAF)
Partner Hospital
The treatment will take place in an internationally accredited tertiary care hospital and not in a hotel or clinic. This is important for the patient's safety and care as the patient will have access to all specialized departments & specialist doctors which will further increase the treatments efficiency.
What is Multiple Sclerosis (MS)?
Multiple Sclerosis (MS) is a common neurological disease and a major cause of disability, particularly affecting young adults. It is characterised by patches of damage occurring throughout the brain and spinal cord, with loss of myelin sheaths – the insulating material around nerve fibers that allows normal conduction of nerve impulses. Multiple Sclerosis (MS) affects over two million people worldwide and shows a clear gender bias, with women being affected twice as frequently as men.
Etiology of Multiple Sclerosis (MS) is still unknown; it is generally thought that the disease will develop in genetically susceptible individuals as a result of an autoimmune response directed against components of myelin. An environmental agent or event (virus, bacteria, chemicals, lack of sun exposure) has been hypothesised to act in concert with a specific genetic predisposition to result in immune dysfunction.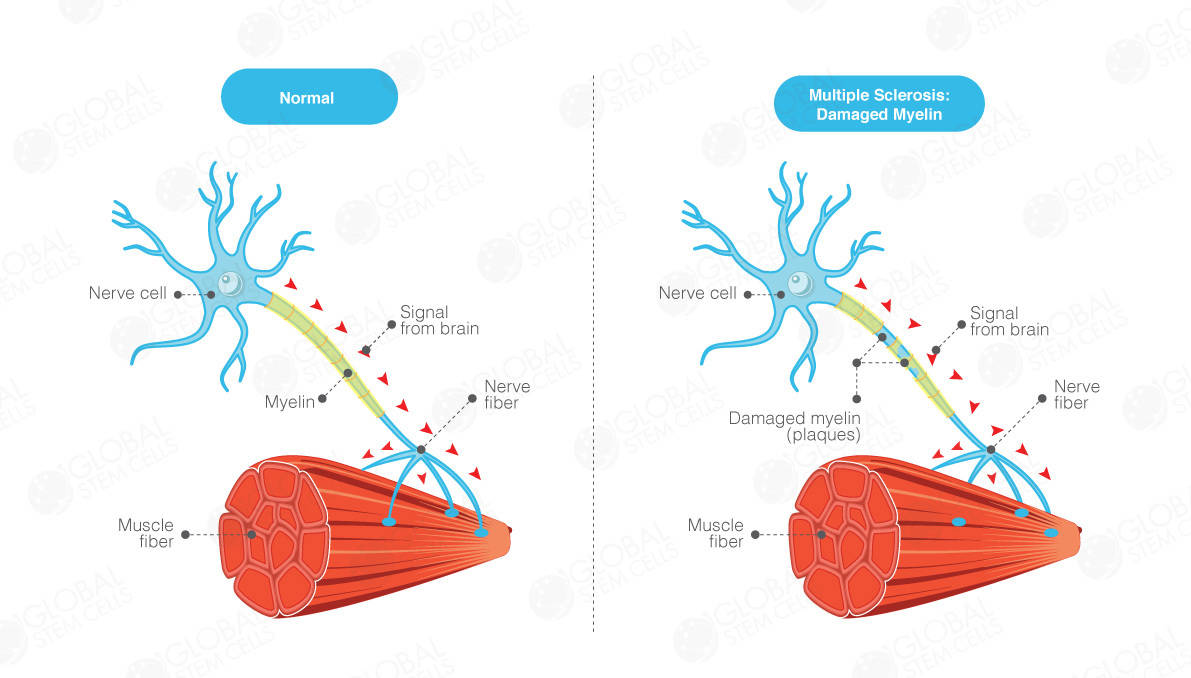 Ways in which Multiple Sclerosis affects the body
Multiple Sclerosis (MS) affects principally young adults and leads to severe physical and cognitive impairment. Multiple Sclerosis (MS) follows a relapsing-remitting (RR) course in 85% and a primary progressive (PP) course in 15% of patients. In the majority of RR patients, secondary progression (SP) occurs after a median interval of 19 years, with persisting relapses in 40% of cases.
Overall, Multiple Sclerosis (MS) patients lose the ability to walk independently at a median age of 63 years, but 1-3% of patients suffer from the malignant form of Multiple Sclerosis (MS) and reach this level of disability only in a few weeks or months. Multiple Sclerosis (MS) also leads to visual disturbances, loss of sensation, speech and swallowing dysfunction, bowel and bladder incontinence, and erectile dysfunction.
The Very Best Stem Cell Treatments via globalstemcells.com